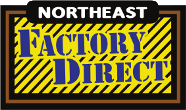 Coronavirus Update
We are here to serve you.
For over 20 years, Northeast Factory Direct has made it our top priority to always do the right thing for our employees and customers. We understand the impact coronavirus (COVID-19) has had on our community. The entire Northeast Factory Direct team is committed to doing our part to respond with public health in mind.
Policies and Procedures
Following the Responsible RestartOhio guidelines, Northeast Factory Direct has updated their COVID-19 safety protocols In order to make shopping for furniture and more safe and accessible:
Every employee will wear a mask, as required by the state
Every employee has been trained in proper social distancing protocols
Each store will be thoroughly cleaned every day
Each store will enact a maximum occupancy policy determined by the store's square footage and based on state recommendations
We'll keep delivering your orders with contact-less pick-up and delivery options
Immunocompromised customers can schedule appointments in the hour before the stores open. Check our hours for daily times
Each store is equipped with masks and hand sanitizer for customers as needed.
Home improvement divisions
Our home improvement divisions are still operating. All customer cabinet, flooring, sinks, granite countertops and hardware projects are still on schedule. It is extremely important to us that all of the families that started a home improvement project with us before or during this incident have their projected fulfilled, to avoid anyone going without a bathroom or kitchen during this time.
Furniture
If you're looking for home furnishings, mattresses, home office furniture, bedding, or other items, you can continue to shop from the comfort of home, online at northeastfactorydirect.com.
Deliveries & Installations
Deliveries of our products are currently on schedule as best they can be and our drivers and professional delivery associates have been educated and trained on best practices to deliver your order in the safest way possible. Also, should you prefer, we can deliver your purchase to your front door and leave the packages outside for you to bring in at your leisure.
Customers who have ordered furniture for pick-up may still do so at our Maple Heights Warehouse location. Please call ahead with any questions or concerns regarding your order.
Questions
Our sales and customer service staff will continue to remain available from 10 AM - 6 PM to answer any questions you have regarding delivery, order status, or product availability.
Hot Tub Outlet and Swim Spa Showroom ONLY
Northeast Factory Direct - Cleveland, OH
Northeast Factory Direct - Euclid, OH
Northeast Factory Direct - Macedonia, OH
Northeast Factory Direct - Clearance Center